An Indian manufacturer and retailer of adventure products, decided to implement a robust tool for compliance automation when faced with audit-related exigencies. The results were transformative! One of the most tangible benefits of compliance automation that they experienced was tremendous cost efficiency, with the company saving a whopping sum. Compliance automation enabled the company to map five years of retrospective compliance, bringing to the forefront the high-risk gaps along with a robust strategy to mitigate those.  In addition, proof processing and department and user-wise aging reports were implemented, which went on to strengthen their overall GRC framework, leading to efficiencies across the entire business lifecycle. Having said that, it is critical to note that a single audit function was responsible for bringing to focus the inefficiencies that lurked in their data management system.
There is no doubt that the term 'Audit' unleashes a sense of nervous flutter within the most seasoned compliance teams in any organization. An impending audit pushes your team to scramble for the minutest of details and furnish them in the auditor's prescribed format. On top of that, your team is constantly rattled trying to find ways to prevent business-sensitive information from unnecessarily getting exposed. If this is not enough, there is always this fear of penalty lurking at the back of the mind. Imagine this happening year after year. The fatigue that sets in, resulting from a cumulative impact of the fear of penalty and the quantum of work to streamline the data is 'Audit Fatigue'. It is real.
The Gnawing Gap
Steven Spear, the renowned researcher and recipient of the prestigious McKinsey Award, once said, "The root cause of all problems is Ignorance". Compliance is mostly perceived from the risk mitigation viewpoint of how businesses are going to address risks emerging from non-adherence to regulatory obligations. On the other hand, an audit is viewed as a kind of examination or scrutiny of whether these compliance goals have been met in the government prescribed and industry-recognized way. When treated in silos, both compliance and audit can lead to an insurmountable volume of work to be done by both the internal compliance and accounting teams as well as the external audit team. This lack of understanding of the relationship between audit and compliance is the root cause of audit anxiety.
Joining the Disparate Dots
Every organization, irrespective of its size and turnover, has a GRC obligation to fulfill and may not have a robust GRC framework in place. Now, this Governance Risk and Compliance framework directly impacts your organization's response to regulatory obligations and risk mitigation. A robust approach helps an organization lay the foundation for implementing corporate policies with a stringent focus on risk mitigation and conformation to standard as well industry-specific regulatory obligations. In addition, this framework should also take into consideration audit requirements related to an organization, and a mechanism for reinforcing best industry practices. So, it can be safely concluded that Audit and Compliance are the two sides of the GRC coin.
Compliance Automation is the best means to be Always Audit Ready
Compliance automation is the key to reinstating the already existing convergence between compliance and audit functions. Industry-leading compliance automation tool,  Complius can enable your organization to achieve  100% compliance coverage with efficiency and resource optimization. What's more? All business-critical information can be ring-fenced by a separate auditor access view.  With compliance automation, your organization can proactively manage all compliances on a day-to-day basis. With access to the necessary document repository,  you can do away with grueling hours of evidence cataloging, proof collection, and audit preparation. All these benefits cumulatively lead you to be on top of all compliance updates and your organization to have a transformed and efficient workflow.
In sum, automate your compliance with Complius and be Always Audit Ready.
How Complius works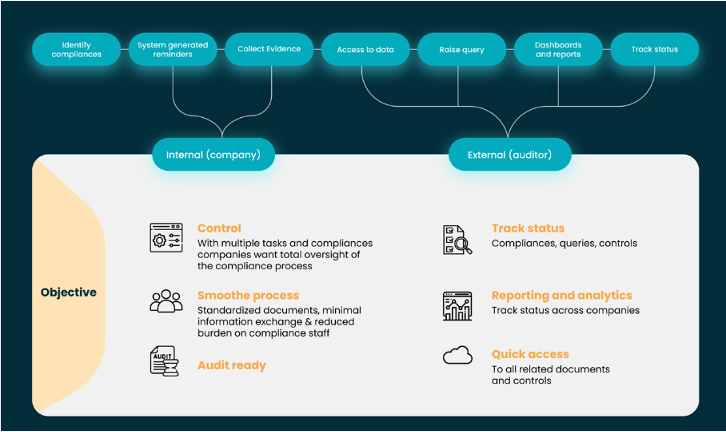 A bird's eye view of how the compliance automation tool works to integrate compliance and audit in the larger framework of GRC.
Resources: