At the end of an exhausting day, we would all like to sleep over our problems and stress. The pertinent question is- will all this stress and fatigue just vanish into thin air just by sleeping over it? Temporarily, yes for individuals!
Let's look at it from the context of enterprises. The business ecosystem is constantly evolving and becoming even more complex. In midst of all the painstaking efforts to remain profitable, sustainable, efficient, and compliant- the entire process of compliance audit can throw every employee, every department off its balance.
Imagine getting the additional responsibility to furnish invoices for an entire month, followed by tons of paperwork and scrutiny of the tiniest of details just to prove that an enterprise has adhered to all relevant regulatory compliances. What then follows is known as audit fatigue leading to this weariness and anxiety.
Enterprises are well aware of the fact that bypassing any of the regulatory guidelines can cost them dearly. The business entities also reckon with the fact that compliance audits need to happen every year, but the question is – are they okay to go through this excruciating process in the same fashion every year?
'No' would be the most obvious answer. So, before we set out to find how to really eliminate this fatigue, let's first understand what causes this audit fatigue.
Regulatory Compliance: Predominant Cause for Audit Fatigue
Gap in the understanding of the Compliance Audit Process
While every in-house legal and compliance team understands the importance of remaining compliant, the challenge arises when the audit exercise actually takes off.  For enterprises, it is significant to understand that regulatory compliance audits are a necessary pain to understand the 'as-is' state of an enterprise when it comes to the regulatory compliance roadmap. The challenge for the enterprise is not just about furnishing minutest of details and proofs, it's about identifying and eliminating inconsistencies prevalent in day-to-day maintenance of data.
Mismanagement of Time
It has been found that 70% of Audit time is just spent scrambling for information at the last moment followed by just 20% in Analysis and 10% in Report Writing. A huge amount of critical time gets wasted in mundane and non-productive tasks which otherwise could have been invested in improving the business processes.
Lack of risk-based approach to audit requirements
A risk-based approach enables enterprises to take note of regulatory risks associated with certain specific business areas, the existing regulatory protocols, and the existing policy controls. Having this approach can help enterprises address areas that are non-compliant.
Disruption the status-quo
There is always a tug of war between this strong inclination of collecting information only during the audit. Disrupting this existing process and then taking that critical call for investing in a compliance tool is very challenging. It's not just having an attitudinal change in one employee, investing in a compliance tool is about taking a huge step in making each employee work on individual compliances at all times to enable enterprises to remain audit-ready.
How to Eliminate Audit Fatigue?
One of the only and proven ways to eliminate this 'Audit Fatigue' is by embracing technology and enabling enterprises to focus on creating an "Audit Ready" work culture. Technological intervention can massively transform the way compliance becomes the 'way of work', thereby bringing about a successful conjunction between the compliance objectives of an enterprise and the auditors.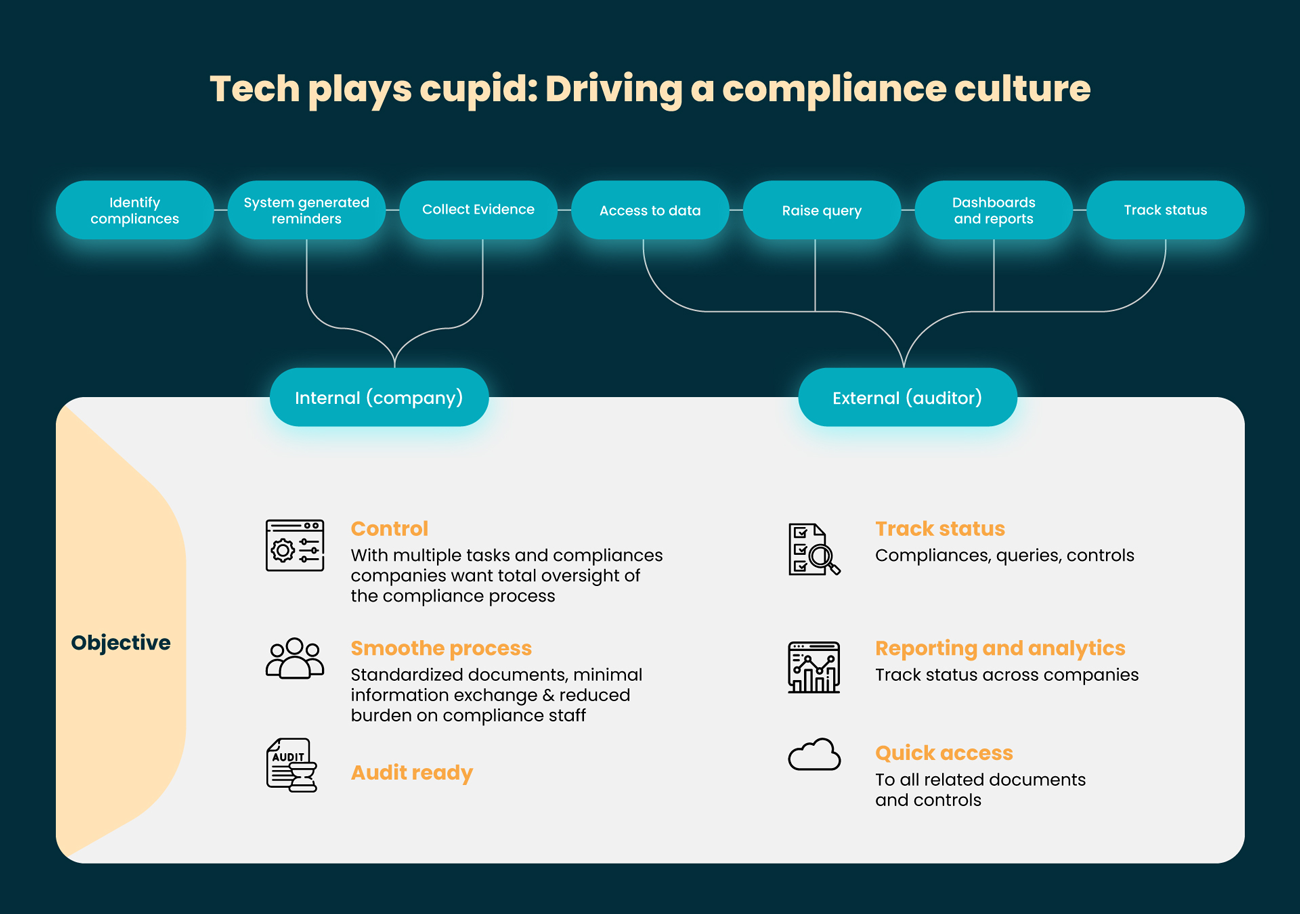 Advantages of Leveraging Technology
     By leveraging technology, enterprises can experience the
following benefits:
100% compliance coverage at the cost of eliminating hundreds of hours wading through the compliance checklist
Maintain secure environment for information sharing with external stakeholders (auditors)
Zero-touch automation, bringing a halt to gruelling hours of audit conversations and evidence & cataloguing nightmare
Compliance automation for policy integrations and other requirements thereby, closing every possible compliance gaps
From the above discussion, it is evident that enterprises really need to transform this 'Audit Fatigue' into this constant state of being "Audit Ready".  This can only be orchestrated by leveraging a robust and intuitive technology solution that not only automates adherence to the regulatory compliance processes but also transforms the way people perceive compliance and audit.
In this highly challenging compliance landscape, Quant LegalTech stands out with its flagship offering Complius that stands tall as a compliance compass directing the enterprises in doing things in the "Right Direction".
Satyavrat Bondre
Chief Technology Officer,
Quant LegalTech