Health is considered more as a state of physical, mental, and social well-being and not merely the absence of disease or infirmity. With a billion-plus population, the healthcare industry in India is responsible for society and the environment.
The healthcare industry in India is growing rapidly and in terms of quality and accessibility to healthcare. However, adherence to laws and regulatory guidelines is paramount to ensuring that mismanagement and callousness do not affect the end beneficiary.
While healthcare providers have to manage and care for patients, they also need to care about their compliance obligations. Comprehensive knowledge of compliance laws and guidelines is a starting step for healthcare providers in keeping up with regulatory demands. The rapidly changing landscape of guidelines and laws also makes complying an even tougher task. In the diagram below are just some of the laws governing the compliance landscape for hospitals.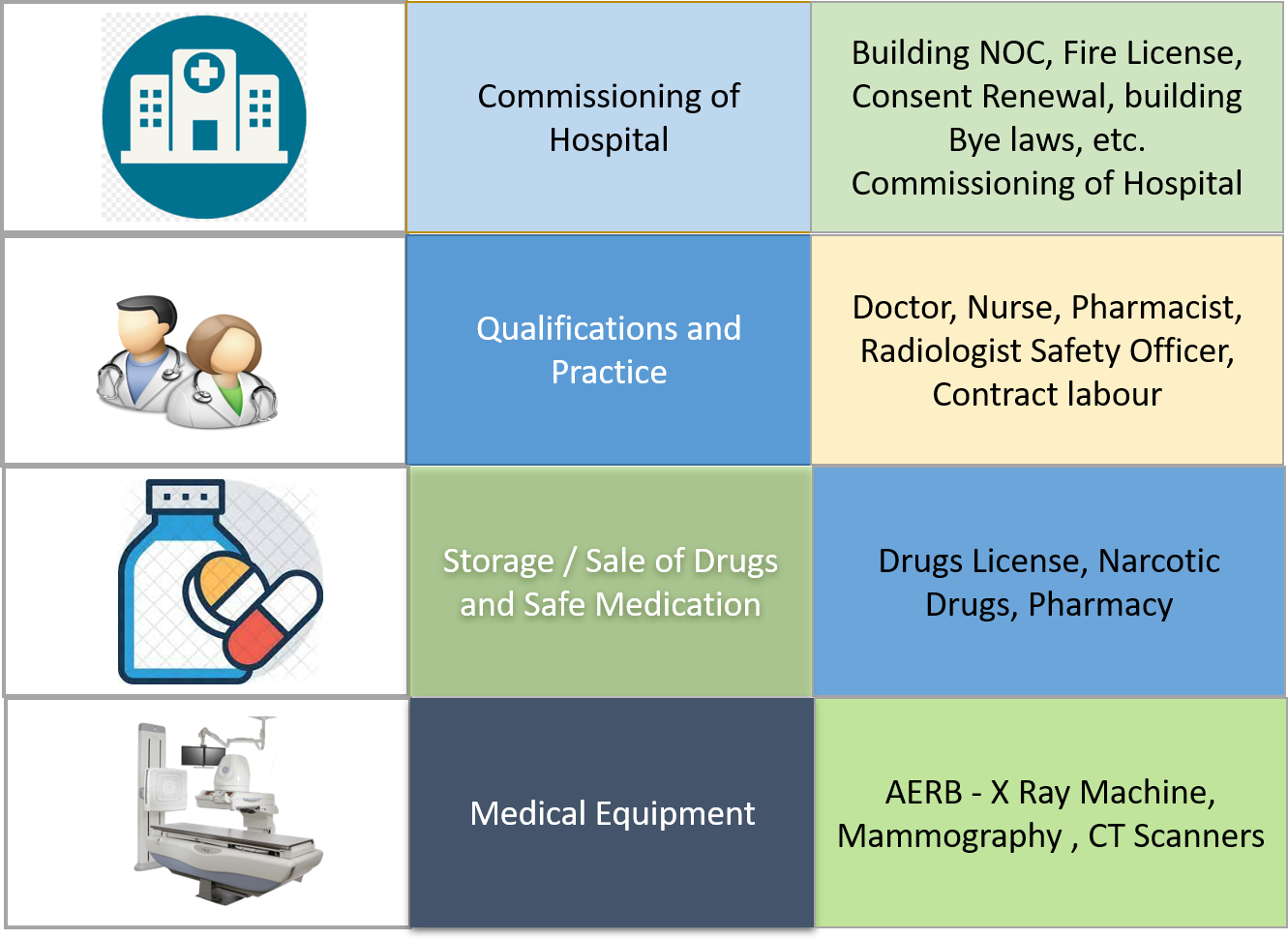 Beyond the statutory filings, hospitals and healthcare providers need to manage licensing and renewals, device and diagnostic equipment related compliances, storage of drugs, waste management and more.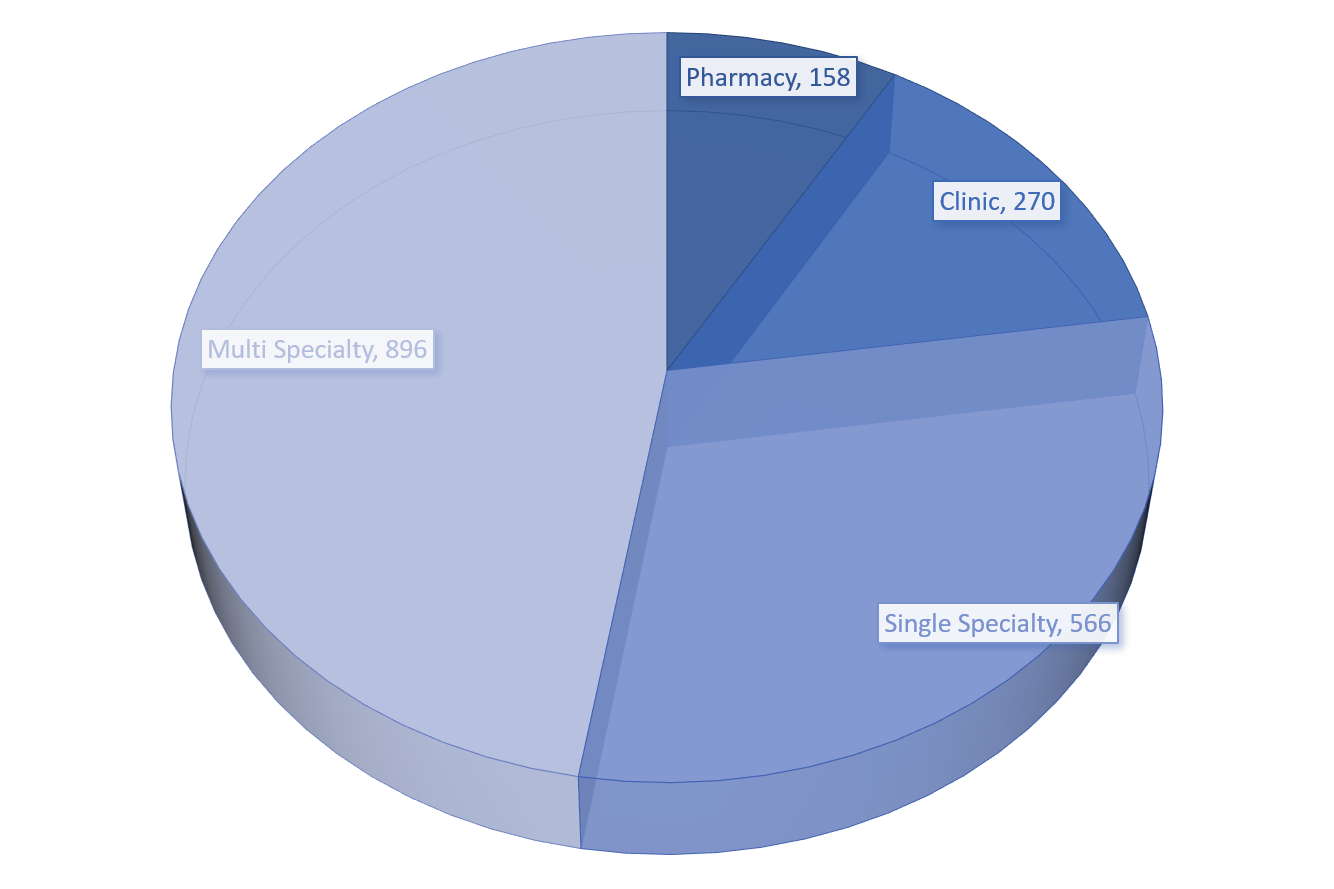 There are more than 80 laws that govern the running of a hospital. A single-specialty hospital has 566 compliance activities to deal with, while a multi-specialty hospital has 896 compliance activities as of date. Compliance is dependent on the licenses and registrations not only at the hospital level but also at the equipment and asset level. Every piece of equipment and device needs to be renewed at defined intervals. Moreover, compliance obligations keep on evolving over time and it is necessary to fulfill them as mandated.
Let's consider a detailed scenario for a multi-specialty hospital. They are governed by 94 legislations and up to 1068 compliances that need to be adhered to in a year of which 203 are being periodical compliances. There are about 750 compliances that hospitals need to ensure at all times.
Do you know that there are upto  812 compliances identified as high risk; and non-adherence of the same may lead to imprisonment?
There are up to 139 filings and 80 renewals to be done in a year. The hospital needs to focus on more than 15 different law areas. About 55 registers need to be maintained.
Equipment that includes linear accelerators, interventional radiology, mammography, x-ray, fluoroscopy, and more need to be renewed periodically based on their validity.
Non-adherence to compliance obligations in terms of quality, coverage, and timeliness leads to monetary setbacks, operational disruption, and reputation damage. Here's where automating the compliance process can save time and costs by up to 50%.
A comprehensive and automated healthcare compliance platform takes care of and assists organizations to comply with complete industry-specific compliances.
Complius® is a cloud-based SaaS platform that enables compliance teams to proactively manage risk and compliances through just the inbox. These compliance solutions are built keeping in mind an evolving compliance environment. They offer comprehensive coverage of all obligations with automated reports and convenient dashboards.
Leading healthcare brands in the country like Manipal Hospitals, Columbia Asia, Vikram Hospital, and SharpSight among others rely on the Complius® platform.
To know more about Complius®, write to us at sales@quantlegaltech.com
The author is CEO at Quant LegalTech Pvt. Ltd.